In this Dealspotr Review, you'll learn how to make money by sharing coupon codes. Yes, you can earn money just by sharing coupon codes and being part of a community who's primary interest is saving money.
Now you've probably heard of these coupon code websites before and you've probably searched for a few discount coupon codes in the past, but Dealspotr brings something fresh to the frugal living community.
A way to earn money while they save.
Dealspotr Review
What is Dealspotr?
Dealspotr is a revolutionary coupon codes website that uses the power of the crowd to source new coupon codes and to verify they actually work as advertised.
Some deal sharing websites just expect their members to do this for free, and this is Dealspotr's point of difference.
Dealspotr rewards you for activities you complete on the website such as sharing coupon codes or validating others, and then you redeem these points for free gift cards.
They've only been around since 2015, but Dealspotr is quickly becoming one of the most popular deal and coupon sharing sites on the web. Continue reading this Dealspotr review to learn why.
How Does Dealspotr Work?
First, you create an account on Dealspotr. (use my referral link for a bonus 5000 points to get you started)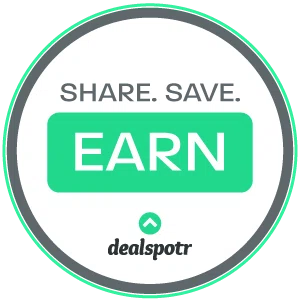 Then when you find coupon codes worth sharing you 'add a deal' and share it with the community. You'll need to complete these steps to add a deal.
Enter The Store Name
Validate the deal hasn't already been shared
Select the type of deal (promo code, coupon or product deal)
Enter a meaningful title for the deal
Identify if it's storewide or conditional
And then add some coupon code validation such as a screen capture or receipt
Then you post the deal
And when it's published you get rewarded with points
Other members of the Dealspotr community will then validate this coupon code or deal and also get points for doing this.
And when you've collected enough points you can redeem them for free gift cards.
It's that easy.
However, there are more ways to make money sharing coupon codes on Dealspotr as you'll learn below.
But first let's take a look at the DealSpotr review video…
Make Money Sharing Coupon Codes with Dealspotr
Dealspotr is primarily a Coupon Code sharing website, however, behind the scenes, it has a sophisticated revenue sharing model which you can exploit to make real money with Dealspotr.
You see as Dealspotr is relatively new in the competitive world of Coupon Code Sharing and has developed a clever revenue sharing model to keep the coupon codes coming thick and fast and more importantly to make sure they're valid on any given day.
The most common problem when searching for coupon codes is sifting through the ones that have expired and no longer work.
And I believe Dealspotr's model has gone a long way to solving this problem with their active community of dedicated bargain hunters.
After all, what more incentive do you need than earning money while you save.
But the real money isn't in sharing coupon codes but rather in the revenue sharing referral program.
And if you are an influencer in the frugality community or have a website audience that will respond to coupon sites, then you'll love what I'm about to share with you.
Yes, all that hard work you've done starting a blog is going to continue to pay off with this referral program.
You see as an influencer (your website must have 1k monthly visits) you can use the 'SPECIAL' access code below to unlock your influencer status within Dealspotr.
NB: These Influencer codes are limited and each Influencer is only given a few to hand out, so first in best dressed I'm guessing.
And with this Influencer Access Code you can unlock your first $20 worth of bonus points really easily and then move onto the next target of another $25 worth of points. And that's before you've even found your first referral.
Here's the coupon code you must use when setting up your account to become a Dealspotr Influencer and unlock the real benefits of being a dealspotr.
YOUR INFLUENCER ACCESS CODE: CjPmaeqd
(use this link when creating your Influencer account – https://dealspotr.com/join?source=influencer )
Oh, and any referral you introduce also earns you an additional 10% of their earnings which is an added BONUS, especially if you have access to a large pool of potential referrals.
Plus as a Gold Level Influencer can convert the BONUS points into PayPal cash which is another great feature of the Influencer Program. Get your blog or YouTube channel up and running today! And become a Dealspotr Influencer too!
Dealspotr Referral Program
As mentioned above, there's a Dealspotr referral program where you can earn 10% of your referrers earnings and they'll get a special +5000 point bonus for using your referral link. Here's my referral link if you want to start earning rewards with Dealspotr and earn your first 5000 points – https://dealspotr.com/?join=365ways
Dealspotr Deal Sharing Widget
One of the features of Dealspotr available to bloggers is the dealspotr deal sharing widget. This widget allows bloggers to embed coupon codes and deals directly on their website whilst adding value to the reader.
And there are a number of elements that can be customized so as to make the deal more relatable to your audience. One thing you'll love is the ability to add you own affiliate link to the deal. And when the coupon or deal expires, the Dealspotr widget continues to find the next best deal for your audience. It's a really neat feature, don't you agree?
This is what the Dealspotr Deal Sharing Widget looks like in action.

Go ahead and try it. It really works 🙂
Dealspotr Payment Proof
Where possible I like to update you with payment proof so you can rest easy that your time isn't being wasted with these ways to make money online.
And although I earned the money in a few short days after joining, it took around a week for my activities to be checked and payment made to my nominated PayPal account. Yes, Dealspotr is legit, join today.
Verdict
To be honest, when this opportunity passed my desk I was thinking it wouldn't be a great fit for my 'make money' community. That was until I had a closer look and realized the full potential of the Influencer Program.
Given most coupon codes websites, expect you to do the hard grind without reward, it was pleasing to find Dealspotr are turning this industry on its head and providing some real incentive to the people doing the grunt work.
As an Influencer you can make a decent income from your referrals and even if your referrals just enjoy finding and sharing bargains, you'll still make joining Dealspotr worth your while.
Potential Earnings: 6 – MONEYBAGS
Time Required: 2.5+ hours
Thanks for taking the time to read this Dealspotr Review and if you have any questions, come and find me on Twitter @365waysto and I'll see if I can help. Otherwise, take a look around and discover some of the best ways to make money online.

And don't forget to subscribe to my YouTube Channel for other ways to make money online.
Share the post "Dealspotr Review – Make Money Sharing Coupon Codes"